DuPont Kapton 200RS100 is a two layer polyimide film with an electrically conductive layer on one side and a dielectric insulator on the other side. The temperature is highly customizable based on distance between electrodes and can be designed for temperatures up to 240°C in continuous heating.
DuPont Kapton 200RS100 has proven performance in applications where a precisely controlled surface resistivity was needed. It provides a durable resistivity, which is only slightly affected by temperature and humidity changes. Kapton® RS film retains all the outstanding inertness, radiation and temperature resistance of other Kapton® polyimide films, which make them ideal for use in extreme environments. Heating applications requiring thin, light-weight, uniform or high temperature performance would benefit from this all-polyimide conductive film. Given the low thermal mass, this material is a more efficient heater than other systems.
The material is not limited by inputs such as current or voltage and can be designed for any output temperature desired. It can also be easily cut into various configurations and will continue to function even if it has been punctured. Due to its polyimide composition, it is resilient to high temperature, thin, and highly flexible.
Characteristics
• High Tg
• Conductive side: black matte surface
• Dielectric side: shiny smooth surface
• Durable from -270°C to 240°C
• Thermally durable to 325°C in oxygen-free environments
Applications
• Surface Deicing
• Automotive Interior Heating
• Aerospace Temperature Regulation
• Industrial Tube Heating
• Composite Curing
• Wearables
• Consumer Appliances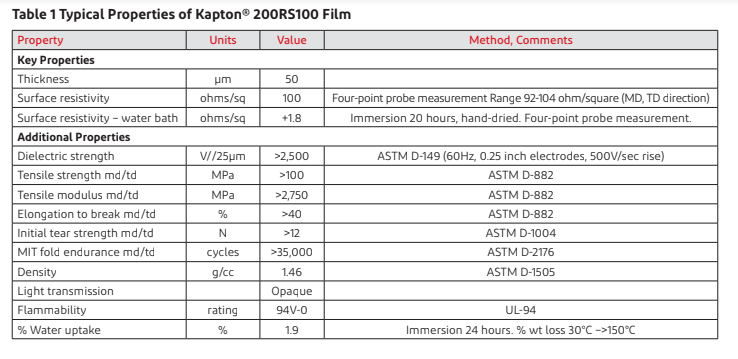 Warranty for Kapton products
• Only applies to Dupont products distributed genuine in Vietnam.
• All Kapton products are warranted if the machine fails due to manufacturer fault.
• For warranty and product maintenance, please contact Achilles, customer service phone number: (Ms. Mai 0976137653)
• Achilles is the genuine supplier of products related to Kapton
• For retail/whole sale pricing, bulk ordering and product information advice please contact (Ms. Mai 0976137653) via info@achilles.com.vn or the website https://achilles.com/.