ELANTAS is a leading manufacturer of insulating and protective materials with focus on the global electrical and electronics industry.
The ELANTAS group offers a comprehensive portfolio of wire enamels, impregnating resins and varnishes, casting and potting resins, flexible electrical insulation materials, materials for electronic protection, specialty industrial coatings, products for printed electronics as well as a wide range of tooling and composite materials.
With the most advanced technology in the world, modern production and testing facilities, scientific management, Elantas provide customers with first class technology, high quality products and value-added services.
I. Purpose of Conformal Coating.
Circuit protection
–Contamination by moisture, fungus or dust
–Corrosion caused by extreme environments
Prevents damage
–From board handling during construction
–During installation and use
–Reduces mechanical stress on components and protect from thermal shock
–Resists abrasion in service
Enhances performance
–Allows greater component density due to increased dielectric strength between conductors.
II. Applications of Conformal Coating
Automotive applications (under hood and inside cabin)
Aerospace and military applications
Telecommunications: Cell phones , pagers , 2 way radios
Commercial applications
Appliances heavy equipment construction, agricultural and railroad.
Industrial applications (general controls).
III. Properties of Conformal Coating.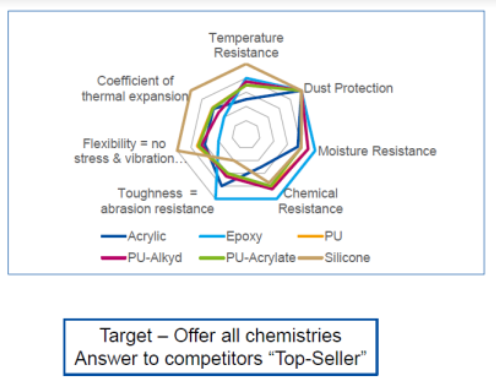 IV. Method use conformal coating.
One of three techniques can be used for applying coatings:
• Spray – manual or automated.
• Dip – recommended dip rate 2-10 inches per minute.
• Brush – recommended for small areas or touch-up.

Warranty for Elantas products
Achilles is distributing Conformal coating, Adhesive for PBA and Potting materials. Those products are manufactured in Elantas Malaysia factory.
For retail/whole sale pricing, bulk ordering and product information advice please contact Ms.Mai (0976.137.653) or contact via mail info@achilles.com.vn or the website https://achilles.com/.