Printed circuit boards are mainly used in products of information technology, communications, automobiles, semiconductors, consumer electronics, etc. Not only do permanent materials such as substrates, interlayer, outermost solder protection and soldered connection materials differ based on the requirements of different products, but the requirements of indirect materials used in the manufacturing process will also be different.
Based on the materials used, process technology and product applications, printed circuit boards can be mainly divided into different products such as Rigid PCB, Flexible PCB, Rigid-Flexible Composite PCB and IC boards. In recent years, because of the rapid development of intelligent products, the trend of various PCB products has accelerated toward compact sizes and high-density circuit layouts. The technical requirements for additional layers of fine lines, pore size and high alignment accuracy are also rising.
Dry film photoresist is the key component used in the image transfer process. It is widely used in precision etching and electroplating products such as Printed Circuit Board (including Rigid board, Flexible board, Rigid/Flexible composite board, and HDI), Lead Frame, IC Substrates, IC packaging, etc. With strong in-house R&D capabilities, we are able to design and develop dry film products to specifically match our customers' requirements for various processes such as Chemical Milling, Electroforming, etc.
Dryfilm Product List :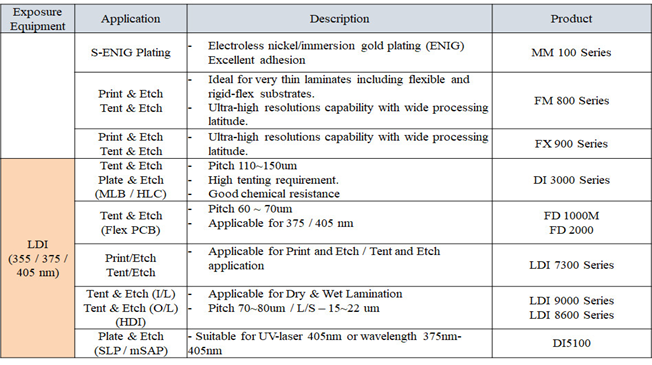 Warranty for Dryfilm products
• Only applies to Dupont products distributed genuine in Vietnam.
• All Dryfilm products are warranted if the machine fails due to manufacturer fault.
• For warranty and product maintenance, please contact Achilles, customer service phone number: 0934 326 889 (Ms.Hiền) 
• Achilles is the genuine supplier of products related to Dryfilm.
• For retail/whole sale pricing, bulk ordering and product information advice please contact 0934 326 889 (Ms.Hiền)  via info@achilles.com.vn or the website https://achilles.com/