DuPont Kapton 120FWN616B is a multi-layer composite film. This composite film offers the superior balance of physical, electrical thermal, and chemical resistant properties found in Kapton® polyimide film and FEP fluoropolymer materials.
Kapton 120FWN616B is heat fusible to copper and to itself enabling reliable and thin spiral wrapped electrical insulation. This capability makes it ideal as an electrical insulation material for copper conductors used in demanding magnet wire applications where good adhesion and dielectric properties are desired.
DuPont Kapton 120FWN616B composite construction consists of a layer 25 micron thick polyimide film core between two 4 micron thick layers of improved high temperature FEP fluoropolymer adhesive. The final, balanced construction is nominally 33 microns thick.
Characteristics
• Heat fusible adhesive
• High dielectric strength
• Double side coated
• Thin, light weight
Applications
• Magnet wire
• Traction motors: rail, auto, mining
• Industrial motor insulation
• Wind, hydro generators
• High temperature
• High reliability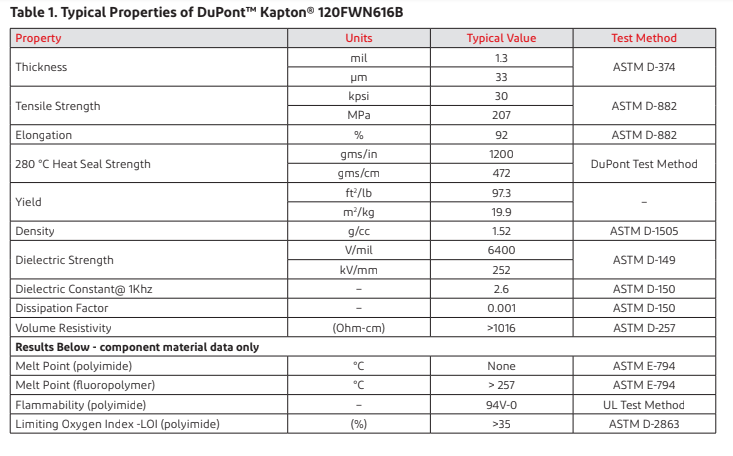 Warranty for Kapton products
• Only applies to Dupont products distributed genuine in Vietnam.
• All Kapton products are warranted if the machine fails due to manufacturer fault.
• For warranty and product maintenance, please contact Achilles, customer service phone number: (Ms. Mai 0976137653)
• Achilles is the genuine supplier of products related to Kapton
• For retail/whole sale pricing, bulk ordering and product information advice please contact (Ms. Mai 0976137653) via info@achilles.com.vn or the website https://achilles.com/.