Product Description
DuPont Nomex 926 is a strong, high dielectric, thermally stable paper that is specifically designed for use as conductor insulation in liquid immersed transformers. Nomex 926 is not appropriate for use as conductor insulation for dry type transformers. Nomex 926 is available only in a 0.05-mm (2-mil) thickness. This product is sold as a "splice-free" insulation. This means there are no films or tapes in the rolls, only continuous, uninterrupted material. The product is typically sold by our distributors and customers as thin tapes for wire wrapping or as already wrapped conductor
Electrical Properties
The typical electrical property values of Nomex 926 paper in mineral oil are shown in Tables I and II. The AC rapid rise dielectric strength data shown in Table I represent voltage stress levels withstood for 10- to 20- second time periods at a frequency of 60 Hz. These values differ from long-term strength potential.
The full wave impulse dielectric strength data shown in Table I were generated on flat sheets, such as those used in layer and barrier applications. The geometry of the system has an effect on the actual impulse strength values of the material. The dielectric strength data are typical values and not recommended for design purposes.
The electrical properties are enhanced in oil due to the excellent impregnability of Nomex 926. Processing characteristics of this paper are similar to other papers used to insulate conductors in liquid immersed transformers.


Mechanical Properties
The typical mechanical property values of DuPont Nomex 926 are shown in Table III. The data in Table IV show the impact of impregnation of mineral oil on the mechanical properties of Nomex 926.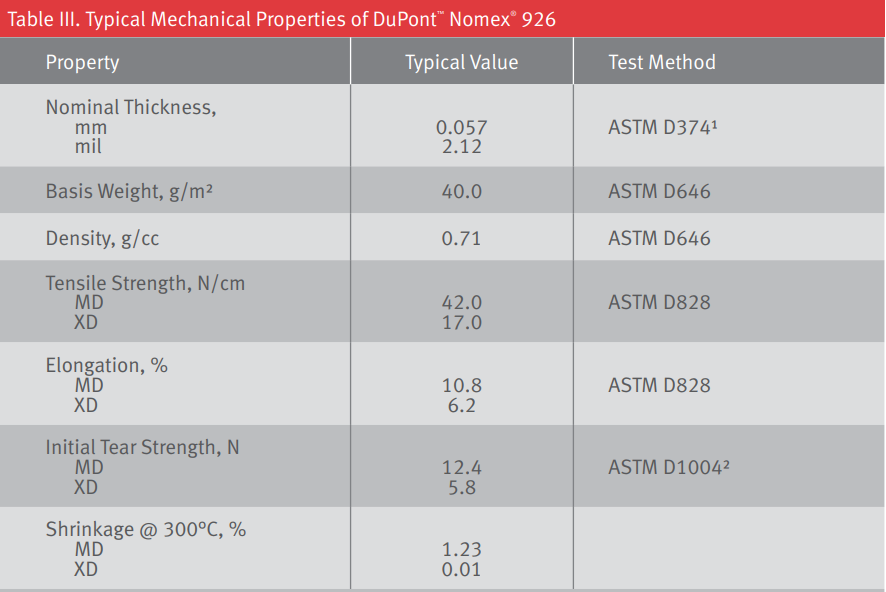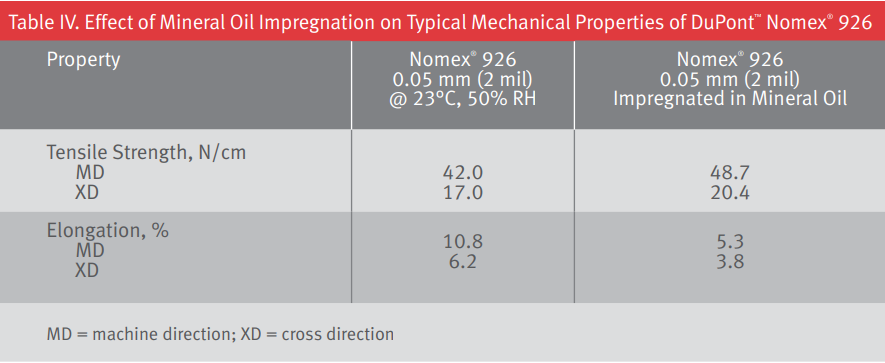 Thermal Properties
The thermal capability of Nomex brand papers and pressboards in liquid immersed transformers has been well documented in industry publications. Single-point aging studies have shown that Nomex 926 has aging characteristics not significantly different from Nomex 410 — 0.05 (2 mil) paper in mineral oil. Therefore, extensive long-term aging studies are unwarranted and not planned for this product. The thermal conductivity of Nomex 926 paper in mineral oil has not yet been tested; however, based on testing for other Nomex thin papers, it is expected to be similar to papers used for wrapping conductors.
Warranty for Nomex products
• Only applies to Dupont products distributed genuine in Vietnam.
• All Nomex products are warranted if the machine fails due to manufacturer fault.
• For warranty and product maintenance, please contact Achilles, customer service phone number: 098 469 4884 (Ms. Duc).
• Achilles is the genuine supplier of products related to Nomex DuPont.
• For retail/whole sale pricing, bulk ordering and product information advice please contact
098 469 4884
(Ms. Duc) via info@achilles.com.vn or the website 
Achilles