Construction
DuPont Nomex 910 is a unique insulating material comprised of high quality electrical grade cellulose pulp and web-like binders made from the same high temperature polymer as other Nomex brand papers. Because the product is comprised of both cellulose and Nomex aramid ingredients, it exhibits properties that are between Nomex Type 410 and cellulosic papers. Nomex 910 is currently offered in four thicknesses (0.08, 0.13, 0.18 and 0.25 mm [3, 5, 7 and 10 mil]). Additional grades of this new product may be offered in the future.
Applications
Nomex® 910 was developed as interlayer insulation in liquid-immersed transformers for distribution and small power transformers . It may also be used for wire-wrapping (conductor insulation) in any transformer, including large power transformers.
Properties
Nomex® 910 has improved physical and electrical properties over existing cellulose-only papers. Based on aging data, it also has longer life under standard thermal conditions. Cellulose (kraft) and TUK (thermally upgraded kraft) are well known as the incumbent insulation materials in liquid-immersed applications. Nomex® 910 is being compared to TUK since it is more thermally stable than standard kraft. The typical mechanical and electrical properties of Nomex® 910 are listed in Tables 1-2-3.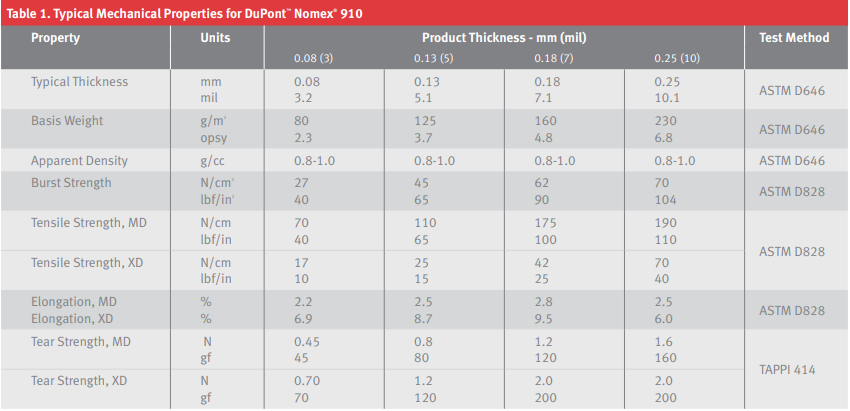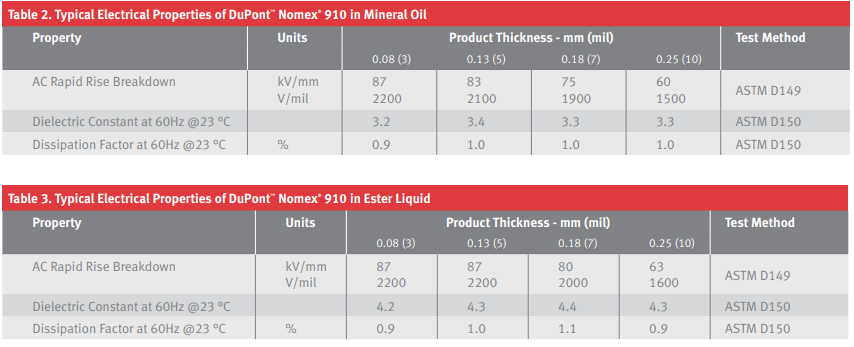 Dielectric Strength of Multiple Layers
Testing multiple layers in mineral oil per ASTM D149 indicates that DuPont Nomex 910 offers an increase in AC rapid rise breakdown voltage compared to TUK. These results can be seen in Figure 1.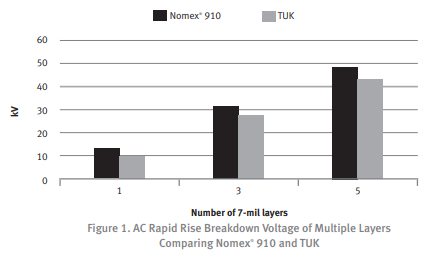 Thermal Aging
Long-term thermal aging tests in sealed tubes were conducted in our laboratories using procedures outlined in the IEEE Standard for Thermal Aging (IEEE C57.100™ – 2011). Based on long-term testing in mineral oil: Nomex 910 – Thermal Class 130 Based on long-term testing in ester liquid: Nomex 910 – Thermal Class 140
Warranty for Nomex products
• Only applies to Dupont products distributed genuine in Vietnam.
• All Nomex products are warranted if the machine fails due to manufacturer fault.
• For warranty and product maintenance, please contact Achilles, customer service phone number: 098 469 4884 (Ms. Duc).
• Achilles is the genuine supplier of products related to Nomex DuPont.
• For retail/whole sale pricing, bulk ordering and product information advice please contact
098 469 4884
(Ms. Duc) via info@achilles.com.vn or the website 
Achilles