DuPont™ Kalrez® 8575 perfluoroelastomer parts are a white product for oxidation, diffusion, lamp anneal and RTP sealing applications. Kalrez® 8575 exhibits excellent thermal stability and long-term sealing performance, less Infrared (IR) absorption and significantly reduced outgassing properties at elevated temperatures. It also has good mechanical properties and is well-suited for both static and low stress/low sealing force applications. A maximum application temperature of 300°C (572°F) is suggested. Ultrapure post-cleaning and packaging is standard for all 8575 parts.
Tính chất vật lý tiêu biểu
| | |
| --- | --- |
| Color | White |
| Hardness, Shore A (pellet) | 63 |
| Hardness, Shore M (O-ring) | 74 |
| 100% Modulus4, MPa (psi) | 2.99 (434) |
| Tensile Strength at Break, MPa (psi) | 14.53 (2107) |
| Elongation at Break, % | 220 |
| Compression Set, %, 70 hr. at 204 °C (400°F) | 23 |
| Max. Application Temperature, °C (°F) | 300 (572) |
Key Performance Features Contribute to Extended Seal Life
• White color reduces IR absorption and reduces seal temperature
• Very low outgassing properties
• Excellent (low) compression set properties
• Excellent elastic recovery properties
Suggested Applications
• Chamber lids
• Gas inlets
• Quartz windows
• Throttle valves
• Other plasma applications
Seal Force Retention/Compression Set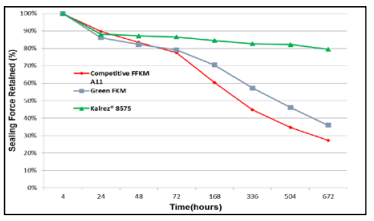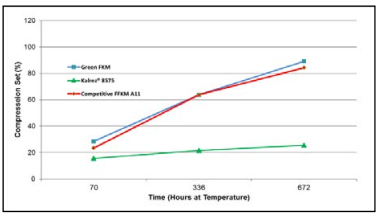 IR Absorption vs. Seal Temperature
In RTP processes, IR light is used to heat the wafer. The amount of IR light absorbed by the seal is influenced by color. White seals like Kalrez® 8575 will absorb less IR light than black seals. As a result, the effects of thermal aging on white seals will be reduced throughout the life of the seal.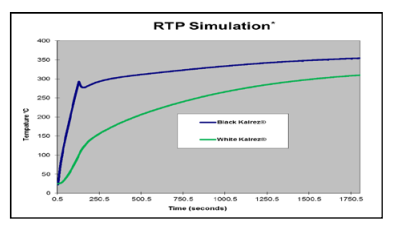 Warranty for Kalrez products
• Only applies to Dupont products distributed genuine in Vietnam.
• All Kalrez products are warranted if the machine fails due to manufacturer fault.
• For warranty and product maintenance, please contact Achilles, customer service phone number: 098 213 2184 (Ms. Duc).
• Achilles is the genuine supplier of products related to Kalrez DuPont.
• For retail/whole sale pricing, bulk ordering and product information advice please contact 098 213 2184 (Ms. Duc) via info@achilles.com.vn or the website https://achilles.com/.