DuPont has developed a seal design to improve seal life in dovetail grooves. This design combines the
excellent chemical, thermal and plasma resistance of DuPont Kalrez perfluoroelastomer parts with a unique cross-sectional shape that eliminates many of the problems associated with semi-dynamic seal applications using a dovetail groove.
These problems include installation difficulties as well as short seal life and particle generation due to seal wear and degradation.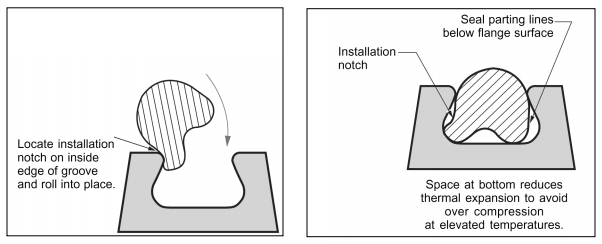 Features and Benefits
• Molded notch makes installation a snap!
• Reduces installation time.
• Avoids improper installation.
• Geometry interlocks in groove to prevent seal from rolling and twisting during installation.
• Bottom lobes lock seal in place to resist pullout and movement during actuation.
• Seal parting lines are maintained below the flange surface, eliminating direct exposure to plasma or
process chemicals.
• Seal design and compound selection combine to yield REDUCED PARTICLE GENERATION and
SIGNIFICANTLY INCREASED SEAL LIFE!
Suggested Applications
• Slit valve doors
• Gate valves
• Semi-dynamic sealing applications that utilize a dovetail groove configuration
Availability
• Molds have already been developed for a number of common slit valve door seal part sizes.
• A DuPont Kalrez TriLobe seal can be developed to fit any size dovetail groove.
Warranty for Kalrez products
• Only applies to Dupont products distributed genuine in Vietnam.
• All Kalrez products are warranted if the machine fails due to manufacturer fault.
• For warranty and product maintenance, please contact Achilles, customer service phone number: 098 469 4884 (Ms. Duc).
• Achilles is the genuine supplier of products related to Kalrez DuPont.
• For retail/whole sale pricing, bulk ordering and product information advice please contact 098 469 4884 (Ms. Duc) via info@achilles.com.vn or the website https://achilles.com.vn