Polyimide Film is material electrical insulation. Kapton® polyimide film can be used in a variety of electrical and electronic insulation applications: wire and cable tapes, formed coil insulation, substrates for flexible printed circuits, motor slot liners, magnet wire insulation, transformer and capacitor insulation, magnetic and pressure-sensitive tapes, and tubing. 
Kapton PI film for Electrical Insulation application:
Motors/Magnet Wire : Rail, Oil, Industrial.
Aerospace Wire        : Commercial, Military.

Characteristic of Kapton PI film:
High temperature/high performance : electrical performance over wide temperature range and Motor Class N higher 200⁰C.
Thin, light weight so more power and efficiency and lower operating costs.
High temperature, corona resistance; physically tough; Chemical / Hydrolysis resistance so providing long life/ reliability.
Recommended Kapton Films : Kapton FN/FWR/FWN/FCR/FCRC hoặc Kapton PRN/PRT.
Kapton® PI Film in Magnet Wire  and Motor Applications Process: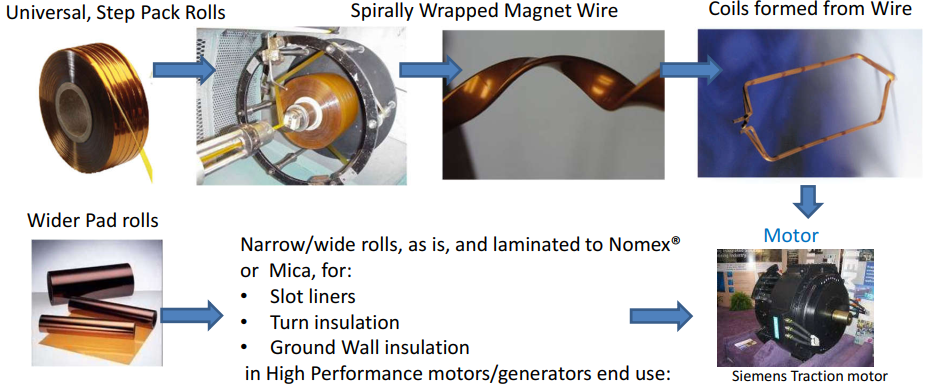 End Use Segments:

Warranty for Kapton products
• Only applies to Dupont products distributed genuine in Vietnam.
• All Kapton products are warranted if the machine fails due to manufacturer fault.
• For warranty and product maintenance, please contact Achilles, customer service phone number: 0976 137 653 (Ms. Mai) 
• Achilles is the genuine supplier of products related to Kapton.
• For retail/whole sale pricing, bulk ordering and product information advice please contact 0976 137 653 (Ms. Mai)  via info@achilles.com.vn or the website https://achilles.com/