Reduce potential for costly seal failure with Kalrez® O-rings which have been certified by two independent labs to meet rigorous requirements for resistance to rapid gas decompression.
Standing up to harsher conditions
Building on more than 30 years of experience in serving the oil and gas industry, DuPont delivers durable, reliable sealing solutions for downhole and surface-mounted equipment such as ball valves, other kinds of valves, packers and pumps.
DuPont scientists developed Kalrez® 0090 perfluoroelastomer parts for outstanding resistance to repeated rapid gas decompression. In third-party testing to stringent globally recognized standards, O-rings obtained the best possible rating (0000) with no internal cracks, holes or blisters (see Table 1 for test conditions). Materials Engineering Research Laboratory Ltd. (MERL) in the U.K. conducted tests according to the NORSOK M-710 (Rev. 2) standard. Centre Technique des Industries Mécaniques (CETIM) of France conducted tests according to international oil and gas company, TOTAL's specification GS EP PVV 142 (Rev. 05).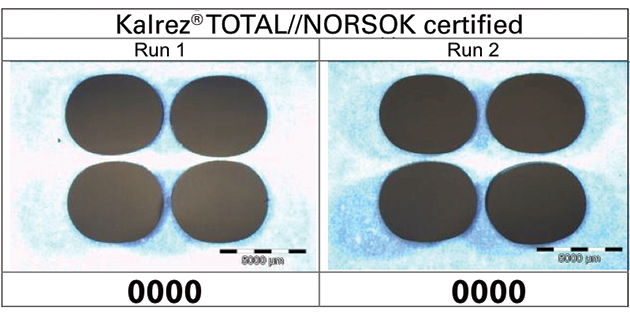 Highest rating of "0000" in severe test conditions demonstrates outstanding RGD resistance of DuPont™ Kalrez® 0090.
Test Conditions (internal DuPont):
Gas composition: 100% CO2
Pressure: 15 MPa
Temperature: 100°C
Soak Time: 24 hours
Decompression rate: 12 MPa/min
Sample compressed 20%
Samples are cut to ensure that gas is on both sides
1 decompression cycle
Why the 0000 rating matters
The best rating a seal can receive in the NORSOK and TOTAL tests, 0000, demonstrates compliance with the specifications listed above with no cracks or blisters visible on the O-rings' cross-section after the test. The results of these tests demonstrate the capability of Kalrez® 0090 perfluoroelastomer parts to provide performance meeting both important industry standards.
Superior all-around performance in harsh environments
In addition to providing outstanding RGD resistance, Kalrez® 0090 seals have other properties that ensure superior performance in harsh oil and gas environments.
Chemical resistance. Critical seal parts withstand attack by more than 1800 chemical substances.

Broad temperature capability: Kalrez® 0090 retains high levels of resilience up to temperatures as high as 250°C (482°F). It can seal down to –21°C (–5.8°F) based on the DuPont static low temperature test. Under pressurized sealing conditions, Kalrez® 0090 has demonstrated low temp­erature performance down to –40°C (–40°F) in customer laboratory tests1.

High modulus at low elongation provides excellent extrusion resistance.