Next generation bendable tablets and smartphones have captured our imagination for years. And now its burgeoning into reality. Transparent touch sensor electrodes made from Heraeus Clevios™ PEDOT conductive polymers help next generation touch displays to become flexible, foldable, wearable, curved, 3D-shapeable thereby combining the best of potential technologies.
Foldable smartphones are expected to become widely available, providing an all-new user experience. Smartphone makers will be able to differentiate their products and are expected to bring first products to the market by 2019 or shortly thereafter (Figure 1).

Wanted: flexibility and durability
Foldable and rollable touch displays will require all components to be mechanically fully flexible, durable, and robust to guarantee a long product lifetime. For example, materials need to withstand folding tests with more than 300k bendings at a radius of 1 mm. Traditional materials such as ITO have severe drawbacks and are not suitable.
An outstanding solution
Heraeus has developed a new key material, Clevios™ HY E, for foldable touch sensors. Even after over 300 k bendings at an extreme radius of only 1 mm, the materials electrical properties are stable owing to the outstanding and intrinsically flexible properties of the conductive polymer PEDOT:PSS. Sheet resistances can reach as low as 40 Ohm/sq (Figure 2).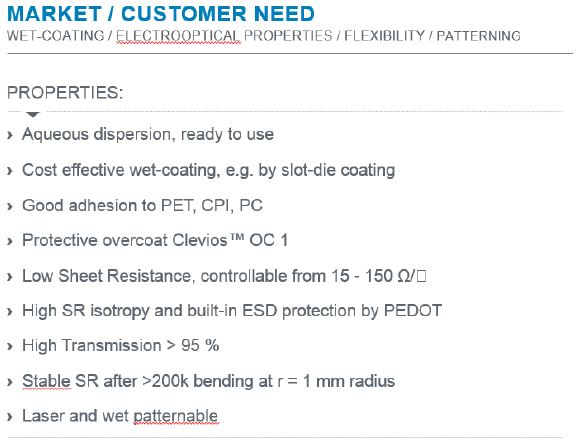 Successful AMOLED touch display prototype
Together with ITRI in Taiwan, we were able to demonstrate a successful use-case for Clevios™ PEDOT:PSS. A flexible AMOLED touch display prototype was built, using a foldable Clevios™ touch sensor on a 12µm polyimide substrate. Read the whole story
Clevios™ HY E is a hybrid material of silver nanowires (AgNW) and PEDOT:PSS, combining the best properties of both technologies.