Mylar® type MO31 films are being widely used for electrical insulation in slot liners, wedges and phase insulation for motors and generators. Mylar® type MO31 films are also frequently used in hermetic motor/compressor sealed units, fractional horse power motors, diaphragms, and industrial laminations.
Characteristics
The film in thickness of 125~350μm is UL certified;
Excellent mechanical property;
Good electrical insulation property;
Good heat resistance;
Outstanding processibility.
Typical Physical Properties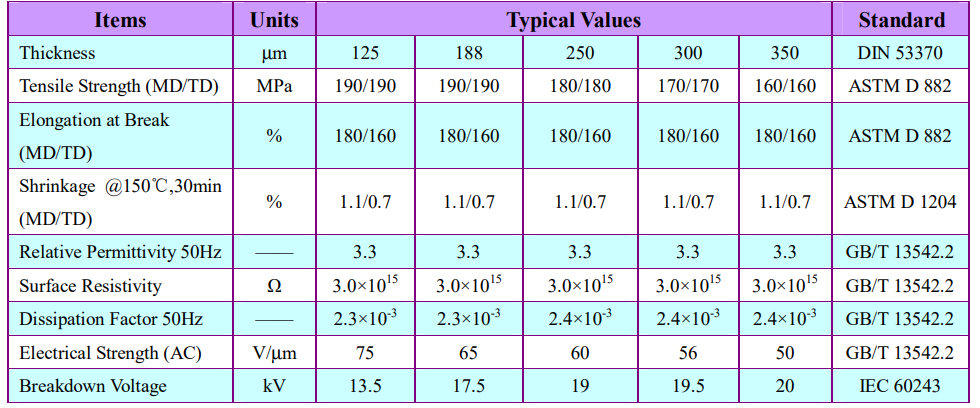 Note: MD: Machine Direction; TD: Transverse Direction. The above data can only be regarded as typical values rather than guaranteed values, which can be adjusted at customer's request.
Specifications

Note: This information corresponds to our current knowledge on the subject. It is offered solely to provide possible suggestions for your own experimentations. It is not intended, however, to substitute for any testing you may need to conduct to determine for yourself the suitability of our products for your particular purposes. This information may be subject to revision as new knowledge and experience becomes available. Since we cannot anticipate all variations in actual  end-use conditions, DuPont Teijin Films makes no warranties and assumes no liability in connection with any use of this information. Nothing in this publication is to be considered as a license to operate under or a recommendation to infringe and patent right.
Caution: Do not use in medical applications involving permanent implantation in the human body. For other medical applications, see "DuPont Teijin Films Medical Caution Statement", H-50102-DTF.
Warranty for PET film products
• Only applies to Dupont products distributed genuine in Vietnam.
• All PET film products are warranted if the machine fails due to manufacturer fault.
• For warranty and product maintenance, please contact Achilles, customer service phone number: Ms. Mai 0976137653
• Achilles is the genuine supplier of products related to PET film
• For retail/whole sale pricing, bulk ordering and product information advice please contact Ms. Mai 0976137653 via info@achilles.com.vn or the website https://achilles.com/.