DuPont Vespel ASB-0826 and 3000 fabric-lined parts offer load-carrying capacity, while providing a self-lubricating surface. Fabrics combine the low friction properties of PTFE with other high-strength fibers for a durable liner that won't damage the mating surface. The liner is adhesively bonded to a metal backing that is selected to match the CTE of the mating components and for its galvanic compatibility. This metallic support provides the compressive load capability of the assembly. Parts intended for self-lubricating bushings that require high load capacity
Typical Properties of Fabric-Lined Grades 
Thermal
Other Properties
Grade
Maximum Temperature
Chemical Resistance

°F

°C

0826

640

338

Excellent Fair

3000

650

343
Wear and Friction Curves for 3000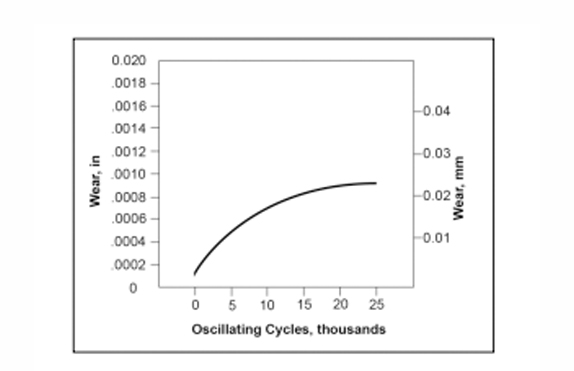 Speed: 10 cycles/min
Temperature: 75 °F (24 °C)
Load: 33,000 psi (227 MPa)
Oscillation Angle: ±25°
Wear Surface: 440 C Stainless, Ra 8
Warranty for Vespel ASB 0826 & ASB 3000 products
• Only applies to Dupont products distributed genuine in Vietnam.
• All Vespel ASB 0826 & ASB 3000 products are warranted if the machine fails due to manufacturer fault.
• For warranty and product maintenance, please contact Achilles, customer service phone number: (Mr.Đức Anh 0358464064)
• Achilles is the genuine supplier of products related to Vespel ASB-0670
• For retail/whole sale pricing, bulk ordering and product information advice please contact (Mr.Đức Anh 0358464064) via info@achilles.com.vn or the website https://achilles.com/.