Vespel CP-0301 composite parts from sheet molding compound consist of long, chopped fibers held in a polymer matrix. The discontinuous nature of the fibers allows the fibers to align with the contours of the part, permitting the molding of relatively complex shapes, while providing reinforcing strength. Vespel CP-0301 parts demonstrate high strength and low weight for aircraft clamps and similar components
Technical Information
Mechanical Property
Temperature
Test Method
Units
Typical Values
Ultimate Tensile Strength

23 °C (73 °F) 260 °C (500 °F)

ASTM D-3039

MPa (ksi) 

340 (50) 

320 (47)

Tensile Modulus

23 °C (73 °F) 260 °C (500 °F)

ASTM D-3039

MPa (ksi) 

47,000 (6,800) 45,000 (6,500) 

Ultimate Flexural Strength

23 °C (73 °F) 260 °C (500 °F)

ASTM D-790

MPa (ksi) 

490 (71) 

340 (50)

Flexural Modulus

23 °C (73 °F) 260 °C (500 °F)

ASTM D-790

MPa (ksi) 

38,000 (5,500) 33,000 (4,800)

Ultimate Compressive Strength (a)

23 °C (73 °F) 260 °C (500 °F)

ASTM D-695

MPa (ksi) 

370 (53) 

240 (35)

Notched Izod 

ASTM D-256

J/m (ft·lb/in) 

690 (13)

Hardness, Rockwell 15-T

ASTM D-2240

86

Thermal Property
Thermal Expansion Coefficient

Phân tích cơ nhiệt

°C (°F

335 (635) 

Thermal Expansion Coefficient

21 đến 316 °C (70 đến 600 °F)

ASTM D-696

m/m/°C (in/in/°F)

2.9 x 10–6 (1.6 x 10–6 )

Thermal Expansion Coefficient(a)

21 đến 316 °C (70 đến 600 °F)

ASTM E-228-85 

m/m/°C (in/in/°F)

27 x 10–6 (15 x 10–6 )

Thermal Conductivity

ASTM C-177 

W/m K (Btu/hr/ft/°F)

0.30 (0.17)

Oxidative Stability

(b)

% weight loss

2

Other Properties
Water Absorption, 24 hr

23 °C (73 °F)

ASTM D-570

% weight loss

0.5

Specific Gravity

ASTM D-792 

1.54
Note: All values listed are for compression-molded samples and are measured in the plane perpendicular to the direction of molding pressure unless otherwise indicated.
a. Measured in the plane parallel to the direction of molding pressure.
b. 100 hours, 70 psia (483 kPa), 610 °F (321 °C) circulating air, saturated conditions, volume/surface area = .091 in. (2.31 mm).
CP-0301 may be processed using a variety of lay-up techniques with single or multiple debulking steps to optimize process capability for each part configuration. These design
considerations can cause variation from the typical values listed above. Listed properties are based upon technical data that DuPont believes to be reliable. DuPont makes no
warranties, expressed or implied, and assumes no liability in connection with use of this information.
Thermal Oxidation Curves for CP-0301
(Tests performed in circulating air, saturated conditions)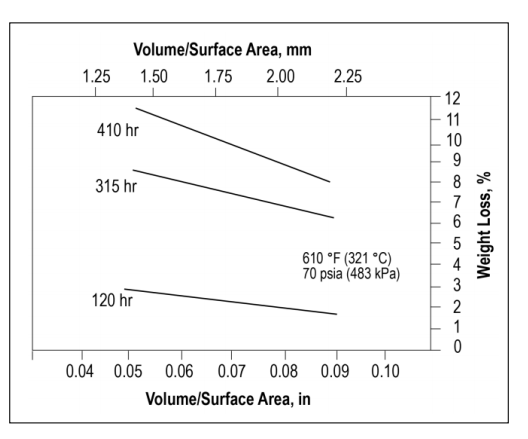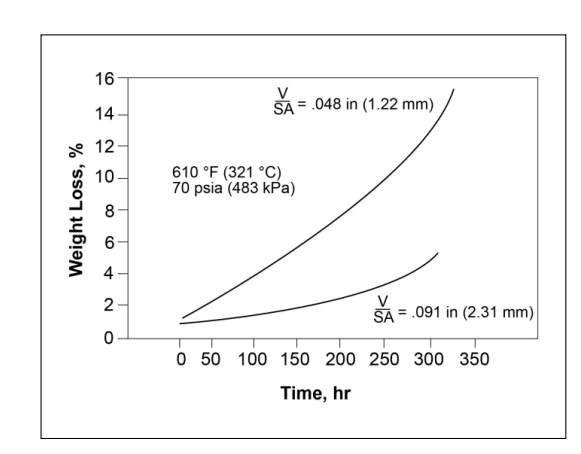 Warranty for Vespel CP 0301 products
• Only applies to Dupont products distributed genuine in Vietnam.
• All Vespel CP 0301 products are warranted if the machine fails due to manufacturer fault.
• For warranty and product maintenance, please contact Achilles, customer service phone number: Ms. Đức 098 2132184
• Achilles is the genuine supplier of products related to Vespel CP 0301
• For retail/whole sale pricing, bulk ordering and product information advice please contact Ms. Đức 098 2132184 via info@achilles.com.vn or the website https://achilles.com/.