AmberTecTM UP650 H Ion Exchange Resin is a premium-quality, high-capacity, uniform particle size strong acid cation resin designed specifically for use in regenerable mixed beds when highest resin purity and water quality are required.
This resin provides outstanding mechanical strength and very high level of cleanness. It is ideally suited to the high flowrate demands commonly encountered in mixed bed systems. The bead size uniformity and dark color is tailored to complement the smaller, less dense, anionic, gel AmberTecTM UP550 OH Ion Exchange Resin.
The color distinction between this pair of resins allows easy visual confirmation of separation following backwash. Together, these resins offer exceptional separation in mixed beds, which combined with excellent water quality and resin purity, has made them known throughout the semiconductor industry as a premium mixed bed pairing.
Resin Pairings
Recommended pairing:
l AmberTecTM UP550 OH Ion Exchange Resin (gel)
Applications
Regenerable, single beds after reverse osmosis
Regenerable, primary mixed beds after reverse osmosis
Regenerable, polishing mixed beds
Non-regenerable, polishing mixed beds
Historical Reference
AmberTecTM UP650 H Ion Exchange Resin has previously been sold as DOWEX MONOSPHERETM 650C UPW (H) Ion Exchange Resin.
Typical Properties
Physical Properties
Polymer Copolymer
Styrene-divinylbenzene
Matrix
Gel
Type
Axit ion dương mạnh
FunctionalGroup
Axit sulfonic
PhysicalForm
Màu nâu sẫm, trong mờ, hạt hình cầu
Chemical Properties
Ionic Form asShipped
H+
TotalExchange Capacity
≥ 2.0 eq/L (H+ form)
Water Retention Capacity
46-52.0%(H+form)
Particle Size
Particle Diameter
650 ± 50 μm
Uniformity Coefficient
≤ 1.10
<300 μm
≤ 0,1%
> 850 μm
≤ 5.0%
Purity
Na
≤ 25 mg/kg
Fe
≤ 25 mg/kg
Cu
≤ 15 mg/kg
Al
≤ 15 mg/kg
Stability
Whole Uncracked Beads
≥ 95%
Friability
Average
≥ 500 g/ hạt
> 200 g/bead
≥ 95%
Density
Shipping Weight
785 g / L
Suggested Operating Conditions
Temperature Range (H+ form)
5 – 60°C (41 – 140°F)
pH
pH Range (Stable)
0-14
Hydraulic Characteristics
Estimated bed expansion of AmberTecTM UP650 H Ion Exchange Resin as a function of backwash flowrate and temperature is shown in Figure 1.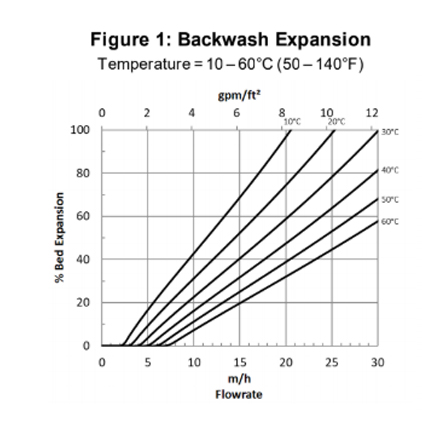 Estimated pressure drop for AmberTecTM UP650 H as a function of service flowrate and temperature is shown in Figure 2. These pressure drop expectations are valid at the start of the service run with clean water.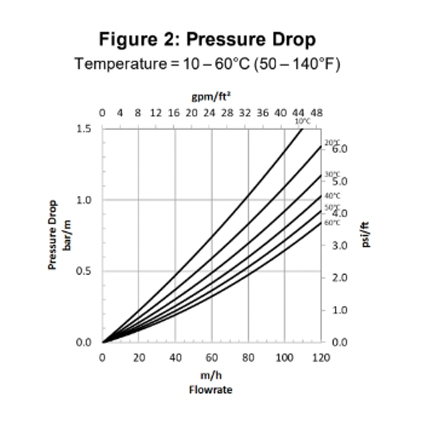 UPW Rinse Properties
AmberTecTM UP Ion Exchange Resins are especially processed and controlled in Quality to ensure the purest treated water quality for semiconductor applications. Typical single bed rinse-down curves for conductivity and total organic carbon (TOC) to ΔTOC = 4 ppb as a function of rinse volume (in bed volumes) is shown in Figure 3.
Product Stewardship
DuPont has a fundamental concern for all who make, distribute, and use its products, and for the environment in which we live. This concern is the basis for our product stewardship philosophy by which we assess the safety, health, and environmental information on our products and then take appropriate steps to protect employee and public health and our environment. The success of our product stewardship program rests with each and every individual involved with DuPont products—from the initial concept and research, to manufacture, use, sale, disposal, and recycle of each product.
Customer Notice
DuPont strongly encourages its customers to review both their manufacturing processes and their applications of DuPont products from the standpoint of human health and environmental quality to ensure that DuPont products are not used in ways for which they are not intended or tested. DuPont personnel are available to answer your questions and to provide reasonable technical support. DuPont product literature, including safety data sheets, should be consulted prior to use of DuPont products. Current safety data sheets are available from DuPont.
Please be aware of the following:
l WARNING: Oxidizing agents such as nitric acid attack organic ion exchange resins under certain conditions. This could lead to anything from slight resin degradation to a violent exothermic reaction (explosion). Before using strong oxidizing agents, consult sources knowledgeable in handling such materials.
Warranty for AmberTec UP650 H Ion Ion products
• Only applies to Dupont products distributed genuine in Vietnam.
• All AmberTec UP650 H Ion products are warranted if the machine fails due to manufacturer fault.
• For warranty and product maintenance, please contact Achilles, customer service phone number: 098 2132184 (Ms.Duc)
• Achilles is the genuine supplier of products related to AmberTec UP650 H  Ion
• For retail/whole sale pricing, bulk ordering and product information advice please contact 098 2132184 (Ms.Duc) via info@achilles.com.vn or the website https://achilles.com/.